Search Engine Optimization (SEO)
Lehigh Valley, PA Website Design and Marketing
THE FIRST PAGE OF GOOGLE SEARCH ENJOYS 95% OF THE TRAFFIC!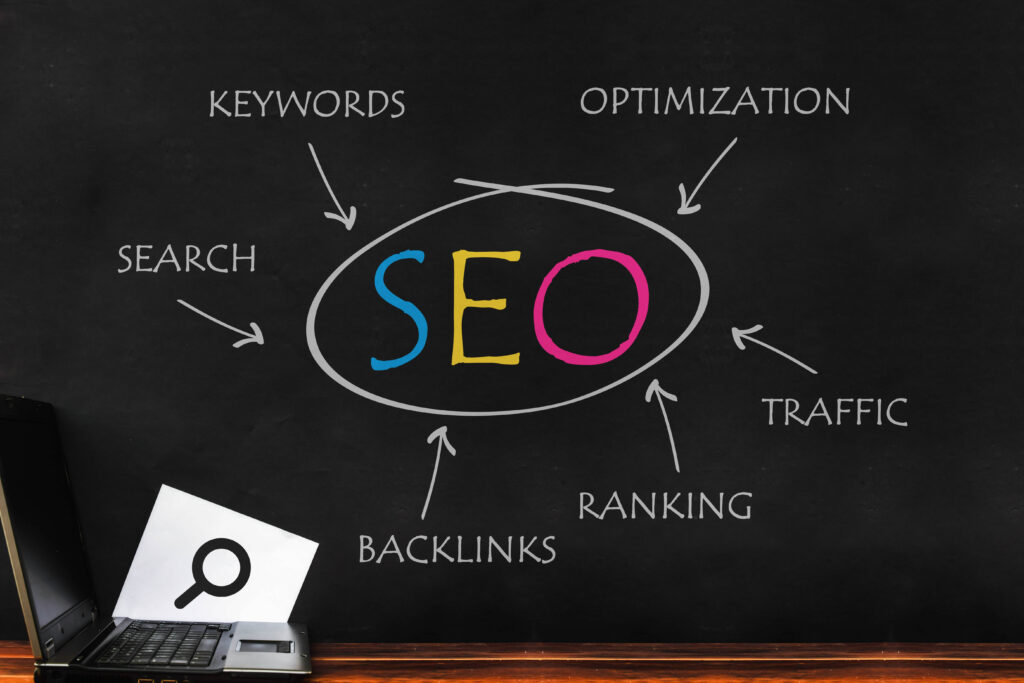 For any small or local business looking to stay afloat, search engine visibility is a must. Running paid ads is a great way to get immediate visibility and highly targeted traffic, but it's crucial that you're working on your long-term organic visibility as well. Search engine optimization (SEO) is a complex marketing strategy that requires consistent effort over time to turn your website into a long-term asset of your business.  Inception Digital Pro has helped many businesses in the Lehigh Valley and NJ rank better and beat the competition for their relevant keywords and geos.
The Internet Is A Crowded Space
The coveted first page of Google is a great place to be.  However for some industries, it's tougher to rank than others.  Without even taking into account the reduction of first page organic listings on Search Engine Results Pages (SERP), many industries like Home Remodeling, HVAC, Real Estate & others have to compete with Aggregators.  Aggregators are companies like Angi, Houzz, HomeAdvisor, Zillow, Yelp, and even yellow page directories that present the consumer with many businesses on their directory that provide that particular service they are searching for.
So, not only are you competing with your direct competition, you are going up against some VERY deep pockets of large multi-national corporations.  This makes SEO difficult, but definitely not impossible as seen by the illustration to the right showing our customer ranking first in the search "Paving Contractors in Bridgewater NJ"; even before the Aggregators.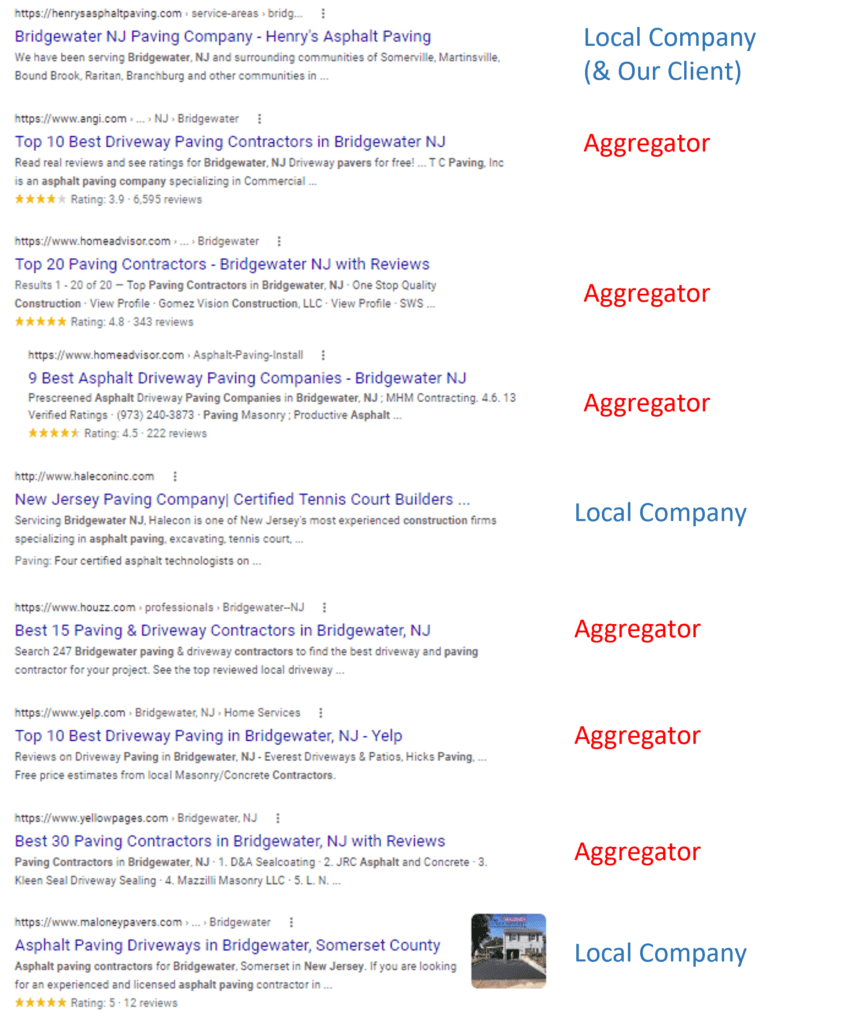 Our Comprehensive SEO Services Include:
 Detailed website analysis;
 SEO plan development;
 Compatibility and resolution checking of your entire site;
 Competitor research and analysis;
 Link tracking, to identify existing backlinks;
 Keyword research and recommendations;
 Website content recommendations and updating;
Google Profile & Bing Places Optimization
 Meta tag  recommendations / updates;
 Identification of relevant directories;
 Website Load Time and HTML Validation testing and recommendations;
 Submission to major Search Engines, including Google, Yahoo, and Bing;
 Ongoing directory submissions;
 Monthly activity and ranking reports;
 And much more!
SEO is a pretty complicated ecosystem, we get it. But our local marketing experts simplify everything so you know exactly what works for your business. You get full transparency into the work we do with in-depth reporting and analytics, plus actionable insights on traffic, calls and leads received from your SEO program.
Give us a call today for a FREE consultation to discuss how we can get your business ranking for the Keywords and Geos that are descriptive of YOUR business
Jennifer Ketchledge
2022-07-11
Jim has done an amazing job for our HVAC business website. He is has exceeded all of our expectations and he excellent at his job!! I would highly recommend Jim for all your website needs, you will not be dissapointed!!
GB Electric LLC
2022-07-09
Very Satisfied with All the work jim banks has done for my Website and my Seo, prior to using Inception digital pro we had used another company for 6 months and I wasn't ranking or seeing much progress at all but after using Inception Digital Pro we seen an increase in leads and traffic in under a month, very Satisfied. Thanks Jim!
My Facebook business reviews disappeared one day and one of my customers referred her online consultant Jim Banks to help out. Jim contacted me quickly, contacted Facebook on my behalf and got my reviews restored on FB within a few days. Jim also took the liberty of establishing a Google My Business page for me as well to help my cleaning business get found. I'm very appreciative of the fantastic work that he did for me and highly recommend him to other business owners. Thank you, Jim! - Beata B.
Whittier Apartments Community
2020-05-04
Jim Banks has done a fantastic job in every business manner possible for our 96 Unit Apartment Community in Catasuaqua Pa. He created our website plus helped us every single step of the way. Additionally he is always available for guidance and just generally. I highly recommend Jim Banks no only for business but just as a top professional and good person. Sincerely Rick Hogan Owner
Tara DeMasi-Stambaugh
2020-04-30
Satisfied Client! I have been working with Jim Banks for years and he truly advocates for his clients. He is patient, supportive and knowledgeable. He has exceeded my expectations on numerous occasions, with excellent advice and suggestions on enhancing websites and other ads.
I have been working with Mr Banks for a while and he has been very helpful and courteous
Jim did a beautiful website for our apartment business. He was very knowledgeable and wonderful to work with. We are very happy with the results and we would highly recommend him and his company for your website!
We are a very small company for which marketing and advertising is not our forte. Jim Banks has been able to work with us to polish our web site and internet presence to garner more traffic. We are getting many more hits from a wider area including internationally. Jim has been a big help to us and is very good at discerning and understanding what we want/need and what we don't.
Ready to achieve online success today?

Get a FREE Digital Checkup
Enter your information below and get a free digital checkup of your website's performance delivered to your email within 24 hours.