Personalized websites & marketing for small businesses
Having a highly credible and user-friendly website that is easily discoverable, particularly on mobile devices like smartphones and tablets, is crucial for small businesses. Since small businesses lack the substantial marketing budgets as larger, regional competitors and chains to attract new customers, it is important for them to have an affordable solution that is accessible both initially and continuously.
At Inception Digital Pro, we specialize in creating websites for small businesses that are affordable and get found in local and hyper-local searches. With our expertise and experience, we develop cost-effective, well-designed websites that are optimized to expand your client base and attract more potential customers.  As your business grows, we are there to grow with you.  We don't push long-term contracts on you and we even offer short-term advertising campaigns, especially for seasonal businesses.
Why Choose Inception Digital Pro?
Small Team...but Extraordinary Results
Inception Digital Pro, in Easton PA, is run by life-long Lehigh Valley resident Jim Banks.  
I've worked for some of the larger SMB marketing companies over the past 25 years, starting out with the 'ole Yellow Pages' (the first 'search engine') and transitioned to solely digital marketing companies like ThriveHive and LocaliQ.  I've done print and online marketing for almost every type of contractor, so I know a lot about your business before we even meet.  I put this experience to work for you, leveraging my knowledge and skills to make your website stand out.  That way, you don't have to waste time and explain your ENTIRE business to a new marketing representative.  After our consultation, most of my clients just let me off my leash and go to work and deliver results.
We bring creative solutions to all projects we work on,
which is why our partners love doing business with us and why they keep coming back.
Have a project in mind? Let's work on it together.
Custom, personalized design
All of our websites are fully custom and built on professional and easy to manage content management systems such as WordPress. We do not develop cookie-cutter templates and provide excellent prices and superb quality on our fully custom website design/development packages. We provide full website hosting and maintenance and utilize top hosting and security platforms to ensure our clients' sites are secure and free of malware.  We'll take care of everything; design, hosting, security, uptime…even the words on the page, so you can stay busy with what you do best.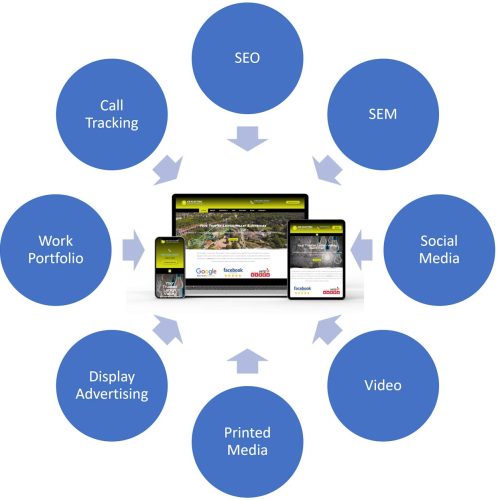 Your website is important.  It is the HUB that all of your other advertising points to.  Although we normally start with your website, crafting a well designed, mobile & user freindly website is the first step.  
Getting that website FOUND & CHOSEN is the most important step.  We offer SEO, SEM, Social Media advertising & more to increase your exposure and create the leads you need to operate a successful business.
Most of my clients are from the Lehigh Valley and New Jersey markets, where I have spent most of my 25 years of experience.  So I know these markets very well, which helps with Search Engine Optimization.  However, I also have clients from other areas as far away as Tampa, FL and Columbus Ohio.  I make it my point to research and understand EVERY market my clients want to be found in, from population to demographics, income, behavior and more.  The more I know, you more you succeed.
Google Business Profile Claiming & Updating
Included with our SEO packages is claiming of your GMB profile.  If you don't have one yet, we can create one.  We will also optimize your GMB profile to rank better in Maps & Local Search results, especially for "Near Me" searches.
MJ's Lawn Mower & Small Engine Repair
Lawn Mower Sales & Service Website
MJ's Lawn Mower & Small Engine Repair is a power equipment sales & service company in Califon NJ.  The owner Michael had his website through one of our larger competitors for several years, but felt he wasn't really getting anything for his investment.  The representative they had had left the company and they just weren't happy with the level of service they were receiving as a paying customer.  MJ's contacted Inception Digital Pro in March of 2023.  During our consultation we analyzed their website, provided competitive research, and uncovered quite a bit of information that could be utilized not just in their website, but in their Google Profile as well.  The new website launched in late April…just in time for their seasonal rush.  The new  website looks imensely better than their old site, has a modern WordPress CMS, has improved their brand image, and is ranking very well in the rural markets of Northern New Jersey.  Michael was very happy with the process and referred me to family member (who also now has a brand new updated website).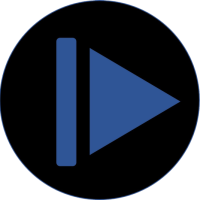 Welding & Steel Building Erection Website
Bryan Ahner came to me by way of referral from one of my HVAC clients in Lehighton PA.  Bryan has a welding, steel erection and fabricating business that never had any sort of online presence.  His business was relatively young, but he had a good name in the industry from his prior employment in the industry around Eastern Pennsylvania.  He had a decent amount of business, but felt it was time for a digital presence.  Bryan was old-school (like me) and wanted a local company to come out and visit with him to allow him to get to know my company and vice versa.  I welcomed the opportunity to meet in person and was glad I did.  Bryan's pride of ownership and commitment to hiring the BEST, hardworking crew and delivering a quality service showed through during our meeting.  All of these traits ONLY make my job easier.  
Although I have a 'minor' industrial background, the welding and steel erection business was one that I had to immerse myself in learning in order to build a quality, content rich online presence.  I built him a fantastic website and pretty much nailed it right out of the box (save for a few punchlist items).  I also designed a brand new logo for his business and established a Google profile.  Website included video, stock and client pictures, testimonials, 6 business segment pages and more.
Within 3 months, I had him ranking first page of Google for 70% of his more popular keywords (not just in Lehighton, but in a 5 COUNTY AREA including New Jersey).  Even outranking competition that has been around for decades!  His traffic continues to increase and his Google profile already had five reviews…all 5 star of course!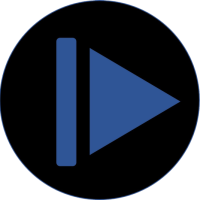 Boone's Professional Events - Tampa FL
Jeff Boone was one of my clients from a former employer.  He owns a fantastic entertainment business in Tampa FL, offering DJ/Emcee service, Photobooth rental and Event Lighting for residential and commercial clients around the Tampa/St. Pete area.  While I was his representative for the former company, I enjoyed tweaking his website with changes that helped him rank better organically in the very competitive SWFL market.  I continued to improve both his rankings and conversions and he was very appreciative of the 'above-and-beyond' work I was doing.  Unfortunately I left the company in late 2021 due to downsizing and ended up starting my own company.
Jeff didn't really need any prodding to follow me.  He trusted me and knew I had his best interests at heart.  I was concerned about losing ranking by migrating the website over to a new platform, however, the opposite happened – his rankings actually either stayed flat or improved after the new website launched!  Over the past couple years, I have made significant design improvements, UX enhancements and have added over 50 new pages to his site for SEO and a new blog series called Ovations.  Even in the highly competitive Tampa Metro area, he is ranking well for a wide range of keywords and geographic areas and continues to thrive.
Beata Biro of B Clean 4 You, LLC came to me as a referral from one of my clients in Hillsborough NJ.  She called me and was upset because her Facebook reviews mysteriously disappeared overnight.  I contacted FB on her behalf and within a few hours I had the review back in place.  Because it was a referral and it really didn't take me too much time, I didn't charge her for my services.  And because reviews were so important to her (and the rest of the business owners in the world!) I told her about Google Business Profiles.  She loved the idea and asked me if I could help her out with establishing a profile.  Within a few hours, she was the proud new owner of her Google Profile (again at no charge).
Fast forward a year later…she always knew she needed a website for her business, but needed somebody she could trust and was affordable.  Hmm…wonder who she chose?  When somebody is searching for someone they are going to be inviting into their home…around their kids, pets and valuables…they are looking for somebody that they can TRUST.  Between her website, her social profiles, Google Reviews and community involvement, we developed a sound marketing online presence designed to convert leads to customers.
Jennifer Ketchledge
2022-07-11
Jim has done an amazing job for our HVAC business website. He is has exceeded all of our expectations and he excellent at his job!! I would highly recommend Jim for all your website needs, you will not be dissapointed!!
GB Electric LLC
2022-07-09
Very Satisfied with All the work jim banks has done for my Website and my Seo, prior to using Inception digital pro we had used another company for 6 months and I wasn't ranking or seeing much progress at all but after using Inception Digital Pro we seen an increase in leads and traffic in under a month, very Satisfied. Thanks Jim!
My Facebook business reviews disappeared one day and one of my customers referred her online consultant Jim Banks to help out. Jim contacted me quickly, contacted Facebook on my behalf and got my reviews restored on FB within a few days. Jim also took the liberty of establishing a Google My Business page for me as well to help my cleaning business get found. I'm very appreciative of the fantastic work that he did for me and highly recommend him to other business owners. Thank you, Jim! - Beata B.
Whittier Apartments Community
2020-05-04
Jim Banks has done a fantastic job in every business manner possible for our 96 Unit Apartment Community in Catasuaqua Pa. He created our website plus helped us every single step of the way. Additionally he is always available for guidance and just generally. I highly recommend Jim Banks no only for business but just as a top professional and good person. Sincerely Rick Hogan Owner
Tara DeMasi-Stambaugh
2020-04-30
Satisfied Client! I have been working with Jim Banks for years and he truly advocates for his clients. He is patient, supportive and knowledgeable. He has exceeded my expectations on numerous occasions, with excellent advice and suggestions on enhancing websites and other ads.
I have been working with Mr Banks for a while and he has been very helpful and courteous
Jim did a beautiful website for our apartment business. He was very knowledgeable and wonderful to work with. We are very happy with the results and we would highly recommend him and his company for your website!
We are a very small company for which marketing and advertising is not our forte. Jim Banks has been able to work with us to polish our web site and internet presence to garner more traffic. We are getting many more hits from a wider area including internationally. Jim has been a big help to us and is very good at discerning and understanding what we want/need and what we don't.